About Giggles & Grace
Giggles & Grace is here for your baby's growth as we carefully encourage the individual development of your precious little one with welcomed parental interaction and support
Contact us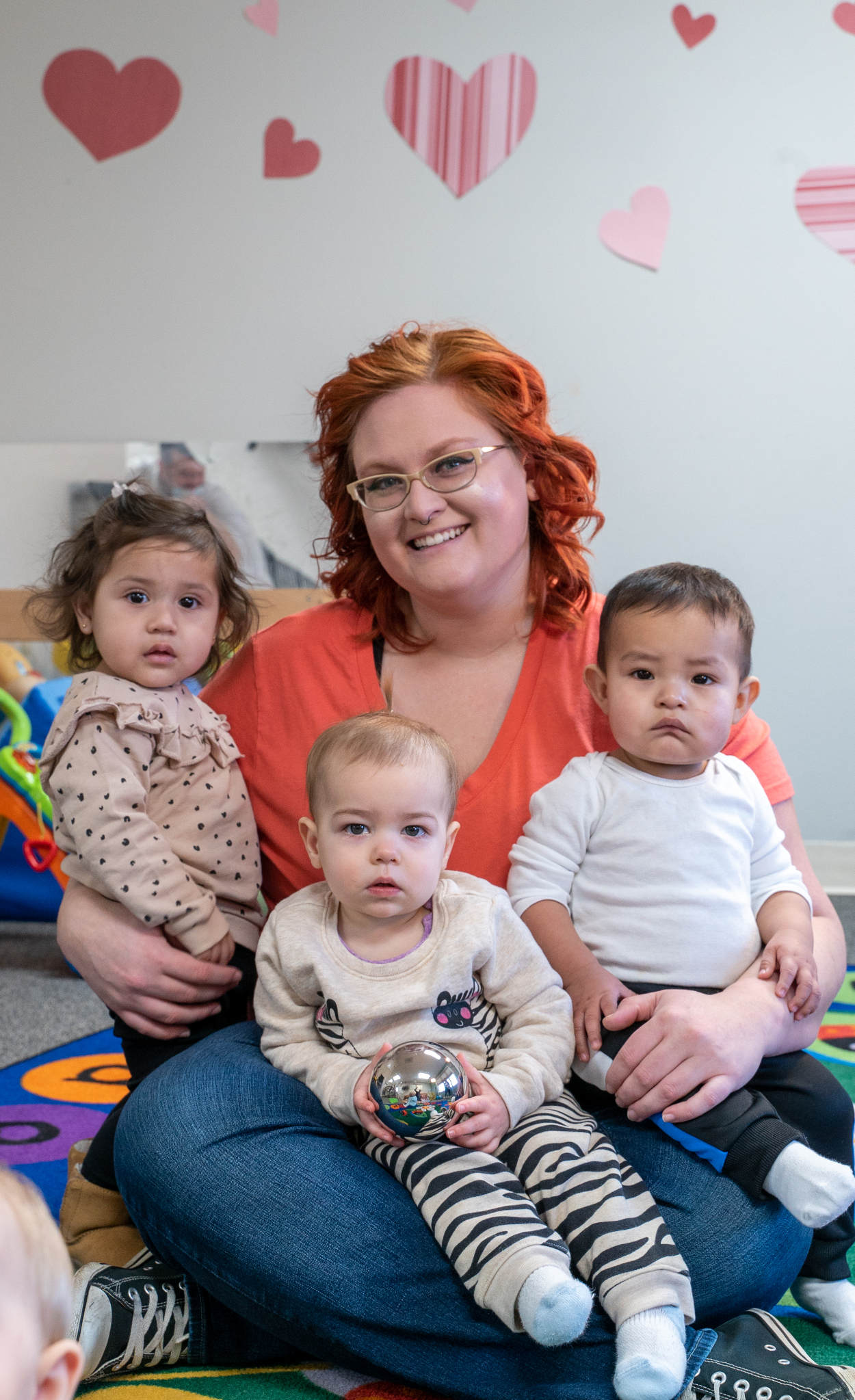 Giggles & Grace Early Learning Center, Inc. is a non-profit organization located in Eastern Oregon that is committed to providing preschool and child care services to children between the ages of six weeks to 12 years old. We are closely located next to and affiliated with the St Paul Lutheran Church, off Alameda Drive in Ontario, and maintain a partnership with the OCDC.
With strong community support from our current and past parents, partners, and active advocates, we are committed to providing a safe and nurturing environment emphasizing the total development of each child; emotionally, intellectually, physically, socially, and spiritually, while accepting and celebrating individual and cultural diversity.
Our Mission is to provide a safe and developmentally appropriate learning environment, which fosters a child's natural desire to explore, discover, create, and become a lifelong learner. We recognize opportunity gaps within Malheur County for our children and continuously seek to address them on all fronts.
We currently serve families residing in or near the Western Treasure Valley by providing care for about 200 children yearly and employ 30 staff members. Giggles & Grace is a young organization, having been established in 2013; however, our teachers have over 100 years of teaching experience combined and are continuing to further their own education while they educate the children we serve.
We have developed a partnership with the Oregon Child Development Coalition to provide early childhood education, quality care, and family advocacy with unique and supportive services in a head start setting to enhance family growth and community access; additionally, we are a Preschool Promise Provider and active partner in the Eastern Oregon Early Learning Hub. We have ongoing partnerships with the Malheur Education Service District to serve children with special needs, Treasure Valley Community College to serve more children and parents in furthering both of their educations, and Ontario Rec District to provide K-12 summer activities.
Giggles & Grace is appreciative to have the opportunity to participate in the bright future of your precious little one, while you work hard in your job to provide the most you can for your family.
The Baby Room is homey and accommodating to the eight infants we serve at any given time with one staff member for every four babies. It is designed to provide care at the different stages of infancy, from six weeks old to 1-year old.
Giggles & Grace is thankful to have longevity among our dedicated staff that are excellent stewards of the mission. The education staff have over 100 years of teaching experience combined. If you are new to the Giggles & Grace family or considering enrollment, we want to share a little about ourselves and work experience.
Shawn Reynolds
Executive Director
Hello, I'm Shawn! I have been at the helm of Giggles & Grace since August of 2016. My experience is extensive in nonprofit executive leadership among other local organizations and in different human service sectors. My children attend Giggles & Grace, so I'm uniquely invested in this organization on multiple levels. My passion for our youth and nonprofit work has brought tremendous stability and growth to Giggles & Grace through my management, marketing, and financial skills in addition to writing successful grants on a regular basis.
Peggy Hawkins
Office Manager
Hi, I'm Peggy. I have been with Giggles & Grace since we opened our doors in summer of 2013. My experience and formal education are in finance and economics in both nonprofit and private business. I retired from coaching swim teams after more than 20 years and have always worked with kids on some level. Working at Giggles & Grace allows me to continue working with children.
Traci Duff
Preschool Teacher
Hi, I'm Traci! I worked at Giggle Tree for about 27 years as a preschool teacher and child care provider prior to helping open the doors within this lovely organization, which is now Giggles & Grace as we know it. My entire working experience with children is about 35 years combined, and I have recently reached a Step 10 in the Oregon Registry Online, which is equivalent to a four year degree in Early Childhood Education. I raised a loving daughter of my own within this organization that I now have the pleasure of working with as she furthers her education in college. I will continue to help teach and raise children until I retire with my mom.
Starr Granger
Preschool Teacher
Hi, I'm Starr! I worked at Giggle Tree for over 10 years as a preschool teacher and child care provider before Giggles & Grace opened. Since summer of 2013, I have been dedicated to Giggles & Grace and the children and families we serve. I was blessed to be able to raise my two amazing daughters and work with them on a daily basis in the Center. It is rewarding to watch children grow along with my own as I have taught and cared form children that now attend high school with my daughters.
Danielle Nissen
Preschool Teacher
Hi, I'm Danielle! I have worked at Giggles & Grace for about five years at every site and within each program we have to offer. My work experience prior to this organization was with a small child care provider in Idaho for over 10 years. I now work at our newest preschool site in the Ontario St Paul Lutheran Church. I'm attending college right now as I further my education to be the best teacher I can be.
Bonnie Uriu
Toddler Teacher
Hi, I'm Bonita, but you can call me Bonnie! After working for a few years at Giggle Tree, I took a break from child care to be a stay-at-home mother before joining Giggles & Grace in 2018. My work experience has only been in working with children in different capacities from a mother to child care to youth clubs. I have raised two of my four children, and I'm now attending college for the first time as I seek to have education opportunities for myself to provide the best level of care possible.
Katy Classen
Infant Teacher
Hi, I'm Katy! I have worked for multiple child care organizations throughout Oregon for over 20 years. I came to Giggles & Grace to be close to my mother and father as I continue to work and care for infants. I have just always loved being a part of a baby's growth and watching them reach their milestones. I look forward to caring for new babies each year!
Lorena Lazo
Program Coordinator
Hi, I'm Lorena! I have been with Giggles & Grace for about five years combined as a parent and employee. My experience has always been in customer service. My daughter has attended every program within Giggles & Grace, and I am fortunate to get to work with her and a new baby boy to some capacity on a daily basis. I am thankful for this experience and opportunity to work with your children as well as my own.
Mamie Allen-Infant
Toddler Teacher
Hi, I'm Mamie! I have been with Giggles & Grace for about three years. My experience with children and nonprofits spans over decades from raising children of my own, serving church youth in Sunday school, and providing supports to individuals with disabilities. I recently adopted a daughter that I'm blessed to be the mother of and have the pleasure of working beside her when she attends Giggles & Grace. I plan to finish the remainder of my work life with this wonderful organization before retiring.
Receive the Quality Child Care You Need
Take the first step towards a fun and safe child care experience by scheduling an after-hours tour or a video or phone consultation at Giggles and Grace.  If we seem like a good fit, you can then begin our formal enrollment process. We are also happy to answer any questions you may have over the phone.